Test sieves made to measure for all types of application, Tolerances matching or exceeding common sieve standards, Detailed certification of conformity with given tolerances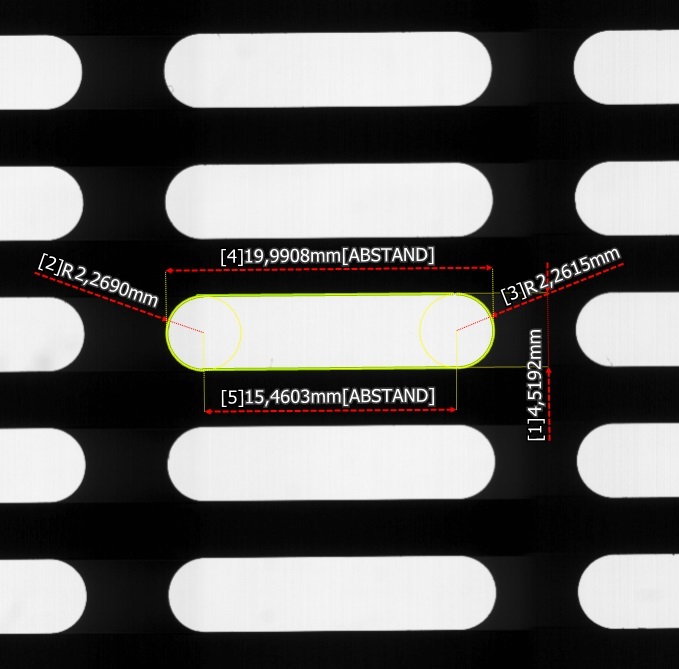 You are facing a screening task or another analytical problem calling for less common or extravagant sieve dimensions that cannot be found in any of the typical sieve standards? No problem – with our unique
Made-to-Spec Service
we can realize any perforation pattern as single-piece production or small batches.
Utilizing modern CNC Technology and innovative surface treatment methods, Blau-Metall can deliver ultra-precise perforated plate sieves conforming with the aperture requirements given by our customer. Detailed optical inspection using Digital Image Measurement Systems provides validation that all customer-imposed tolerances are met and detailed documentation is provided in the form of Calibration Certificates 3.1 in accordance with EN 10204.
Blau-Metall Made-to-Spec:
€ 300* (200 mm)
€ 680* (400 mm)
*Flat rate for single-piece production; Discounts for small batch production of 3, 5 or 10 articles available on request. Delivery Time: approx. 3 Weeks for single-piece production
The flat rate price for Blau-Metall Made-to-Spec services includes the Made-to-Spec Sieve manufactured according to the customer specifications and a Calibration Certificate 3.1 in print and digital version. Additional documentation (e.g. inspection of every sieve aperture) can be provided upon prior request.
Blau-Metall Made-to-Spec:
Available Sieve Types: Round Apertures (Rg, Rv, RdV), Slotted Apertures (Lg, Lv, Lvc), Square Apertures (Qg, Qv, Qdv), Triangular Apertures, Hexagonal Apertures (Hc), etc.
Aperture Width: from 2,00 mm
Standard Tolerance for Aperture Width: ±0,05 mm
Material Specification for Sieve Medium: 1.4301, 1.4401 or 1.4305
Plate Thickness of Sieve Medium: 0,8 to 2,5 mm
Frame Material: Stainless Steel 1.4301
Frame Diameter: 200 mm, 300 mm, 400 mm
The following information is required when order Blau-Metall Made-to-Spec Sieves:
Perforation Pattern (Aperture Type, Nominal Aperture with (w, or w1 x w2, Pitch p bzw. p1 x p2, Rotation in °; or as Drawing / CAD)
Material Specification & Plate Thickness
Sieve Height H1 (32 or 50 mm)
Specification regarding required Tolerances
Additional Requirements (e.g. Food safety, Heat resistance above 80°C)