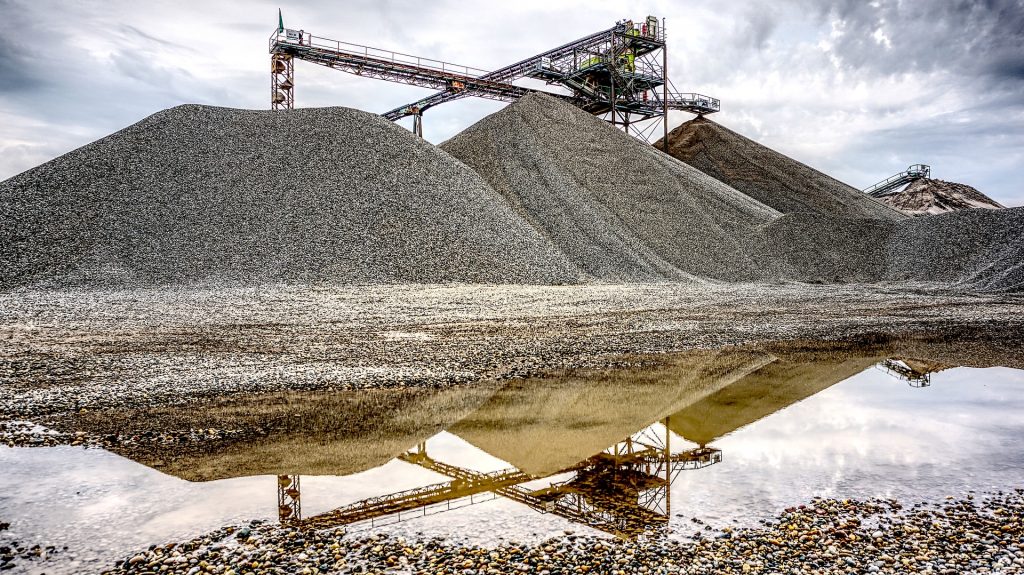 Aggregates for asphalt and other surface types of roads, airstrips and other trafficked areas are regulated via the European Standard EN 13043 which references the instruments and methods of EN 933-1/2 for the analysis of delivery aggregates through traditional screening analysis employing laboratory test sieves. The determination of the particle size distribution, over-/undersize particles and fraction of fines in accordance with the aforementioned standard are deemed mandatory under technical delivery terms and other national regulations governing road construction.
Similar methods and instruments with respect to particle size distribution analysis is also required by the following standards governing various aggregate products: EN 13242 (Aggregates for unbound and hydraulically bound materials for use in civil engineering work and road construction), and EN 13285 (Unbound mixtures – Specifications)
"Aggregates used in construction should comply with all the requirements of the relevant European Standards for aggregates. These standards include comprehensive and specific requirements for natural aggregates, iron and steel making slag and recycled aggregates, dealing with, for example, the stability of certain basalts, the expansion of certain slags and the constitution of recycled aggregates." (EN 13242:2015-07)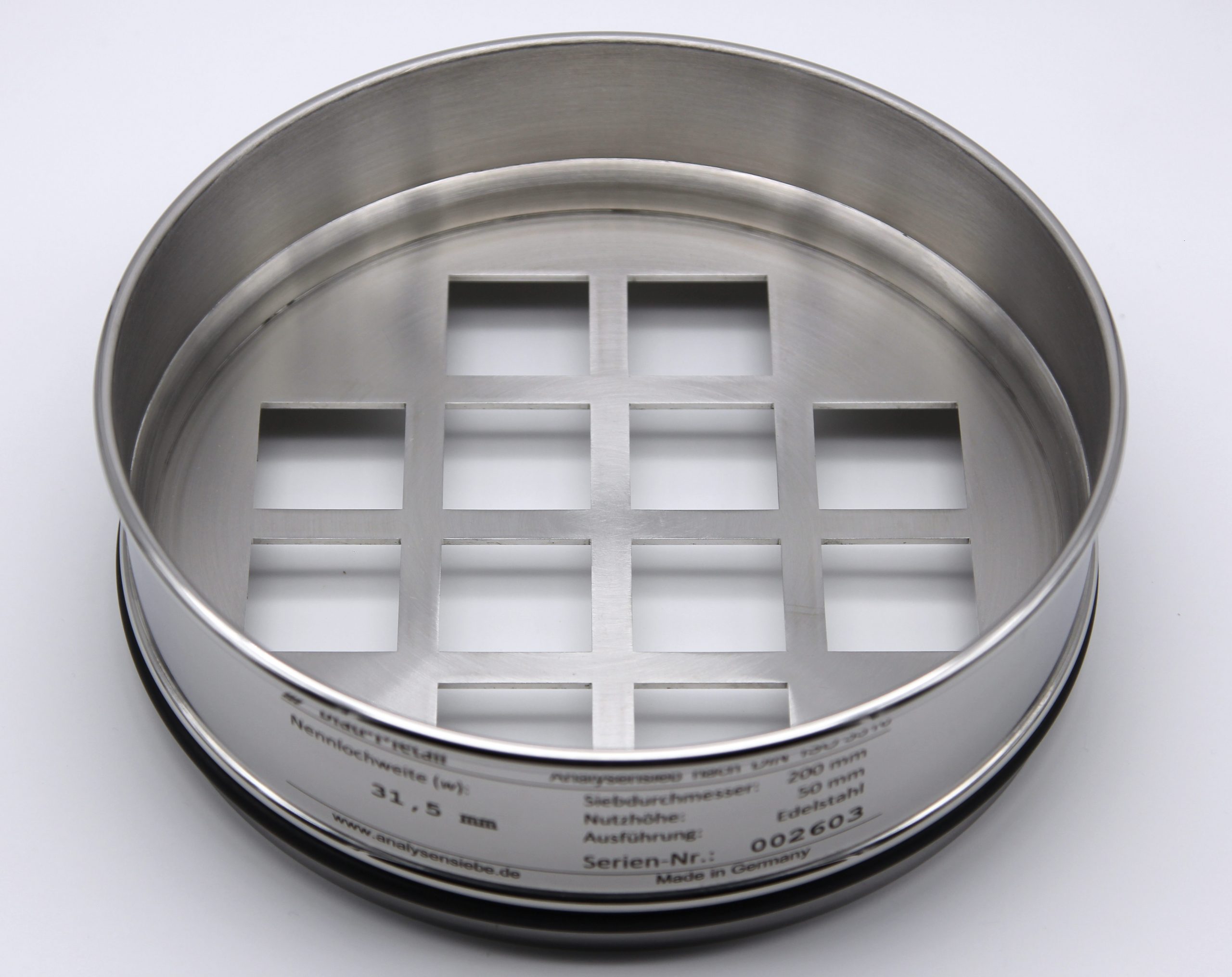 Requirements for initial inspection of production aggregates and in-house production control for all materials governed by EN 12620, EN 13043, EN 13242, EN 13139, EN 13383-1 und EN 13450 is regulated with respect instruments, methods and frequency through EN 16236 (Assessment and Verification of the Constancy of Performance (AVCP) of aggregates - Type testing and Factory Production Control). According to these regulations, quality inspection concerning the particle size distribution of aggregate products are to be carried out through traditional screening analysis employing laboratory test sieves conforming with ISO 3310-1 and 2. Screening analysis is to be performed once per week (for materials covered by EN 12620, 13043, 13139 und 13242), for every 20.000 t of produced material (EN 13383). The determination of the fraction of fines (typically <63 µm) shall also be completed weekly given its importance for the structural properties of the finished product.
Blau-Metall laboratory test sieves according to ISO 3310-1/2 comply with all requirements of particle size distribution analysis as specified in EN 933-1. Our rigorous optical inspection protocol ensures our sieves meet all requirements of ISO 3310 and deliver a statistically sound screening result.
Blau-Metall keeps a stock of all sieve sizes of the primary and Expansion Set #1 as described in EN 13043 to allow for quick delivery times for all sieves needed for screening of aggregate products. Blau-Metall sieves are suitable for screening of all common particle size groups: 0/1, 0/2, 2/4, 4/8, 8/11, 11/16, 16/22, 22/32, 32/45, 45/63, and quantification of fines content.
Test Sieves for Aggregate Analysis according to EN 13043
Stainless Steel, Delivery Times Vary
| Article | Standard | Sieve Diameter |
| --- | --- | --- |
| Test Sieve Square Apertures 63,0 mm | ISO 3310-2 | 200, 300, 400 mm |
| Test Sieve Square Apertures 45,0 mm | ISO 3310-2 | 200, 300, 400 mm |
| Test Sieve Square Apertures 31,5 mm | ISO 3310-2 | 200, 300, 400 mm |
| Test Sieve Square Apertures 22,4 mm | ISO 3310-2 | 200, 300, 400 mm |
| Test Sieve Square Apertures 16,0 mm | ISO 3310-2 | 200, 300, 400 mm |
| Test Sieve Square Apertures 11,2 mm | ISO 3310-2 | 200, 300, 400 mm |
| Test Sieve Square Apertures 8,0 mm | ISO 3310-2 | 200, 300, 400 mm |
| Test Sieve Square Apertures 5,6 mm | ISO 3310-2 | 200, 300, 400 mm |
| Test Sieve Square Apertures 4,0 mm | ISO 3310-2 | 200, 300, 400 mm |
| Test Sieve Woven Wire Cloth 2,8 mm | ISO 3310-1 | 200, 300, 400 mm |
| Test Sieve Woven Wire Cloth 2,0 mm | ISO 3310-1 | 200, 300, 400 mm |
| Test Sieve Woven Wire Cloth 1,0 mm | ISO 3310-1 | 200, 300, 400 mm |
| Test Sieve Woven Wire Cloth 500 µm | ISO 3310-1 | 200, 300, 400 mm |
| Test Sieve Woven Wire Cloth 250 µm | ISO 3310-1 | 200, 300, 400 mm |
| Test Sieve Woven Wire Cloth 125 µm | ISO 3310-1 | 200, 300, 400 mm |
| Test Sieve Woven Wire Cloth 63 µm | ISO 3310-1 | 200, 300, 400 mm |
| Collecting Pan | | 200, 300, 400 mm |