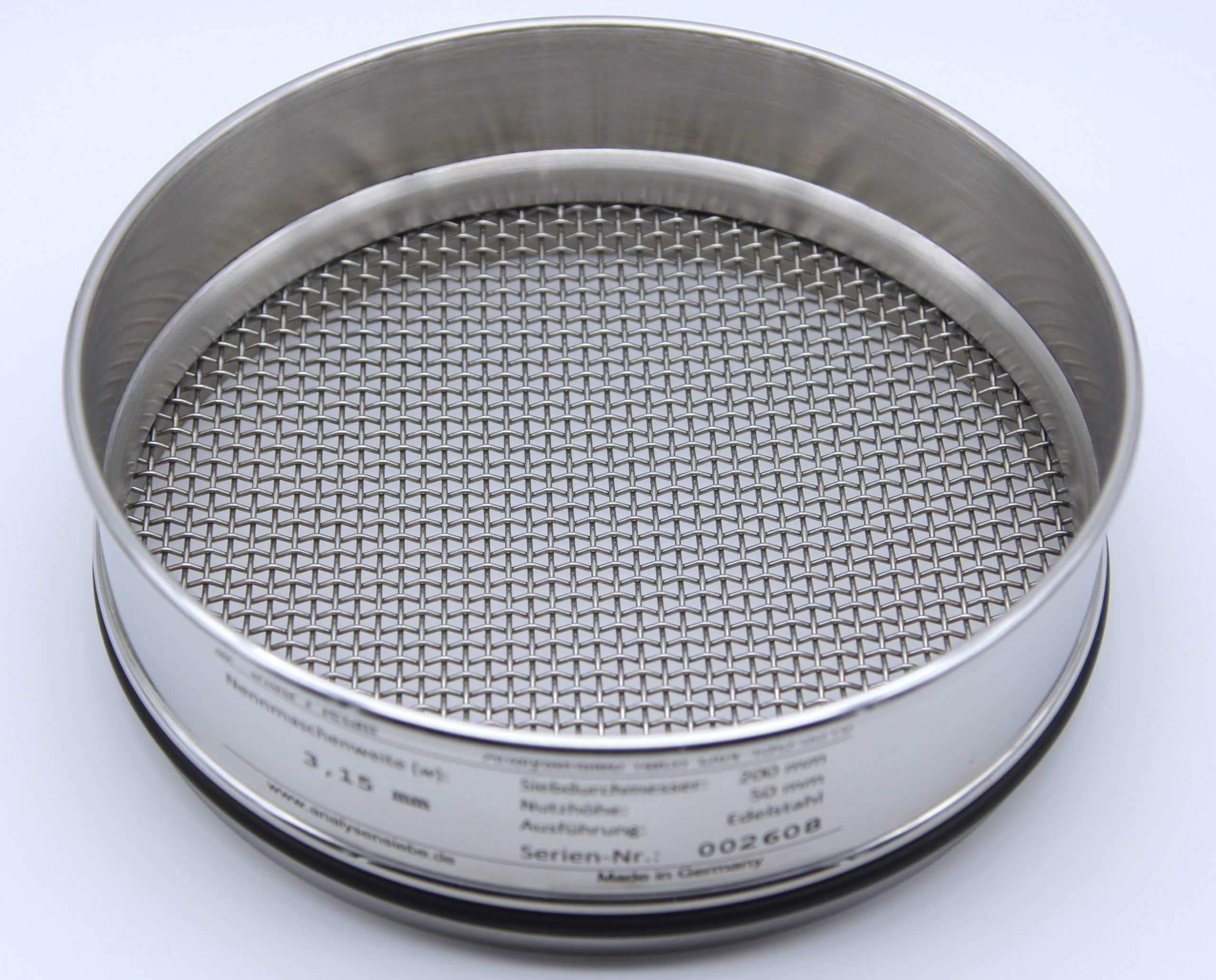 On the basis of ISO 3310 and its national variations, Blau-Metall offers a wide spectrum of norm-compliant laboratory test sieves for a variety of applications including traditional particle analysis for scientific and industrial use.
Our product palette of stainless steel wire mesh sieves as well as perforated plate sieves with round and square apertures provides a solution for virtually sieving task: hand sieving, conventional sieve analysis of coarse aggregates, dry- and wet sieving and machine sieving. Precision aperture technology, a robust sieve construction and a rigorous quality control process allow Blau-Metall sieves to deliver the highest possible precision, constant sieving performance and reliability over a long lifetime.
All Blau-Metall test sieves manufactured according to ISO 3310 consist of a robust, all-stainless-steel design to guarantee a high stability and longevity, even under constant use. Innovative manufacturing processes developed by Blau-Metall for woven wire mesh sieves deliver an extremely high tension within the mesh that remains unparalleled and enables highly reliable sieving results and cost-efficiency through a longer life of every sieve. All Blau-Metall sieves are easily compatible with test sieves of other manufacturers and can be used on a variety of sieve shakers from all major manufacturers.
Prior to shipment, each and every Blau-Metall sieve will be subjected to inspection as required in ISO 3310 using modern digital measurement technology. All sieves come with a Certificate of Compliance with the Standard (EN 10204 2.1) and a Test Sieve Record Card. Laser engraving on each sieve provides a clear identification of its nominal opening dimensions and allows for full traceability of every Blau-Metall sieve through its unique serial number. At the request of the customer, Blau-Metall can deliver Certificates of Inspection 3.1 according to EN 10204 as well as Certificates of Calibration 3.1 if additional statistical certainty is required for specific sieving tasks.

Blau-Metall laboratory test sieves according to ISO 3310 are available in a variety of configurations to provide you with a complete solution for sieving tasks in science and industry:
Technical Specifications

Test Sieves in Accordance with ISO 3310

Sieve Sizes


200 x 32 mm

200 x 50 mm

203 x 50 mm (8″)

300 x 65 mm

400 x 65 mm


Weitere auf Anfrage

Varianten

Woven wire mesh from 36 µm to 125 mm

Perforated plates with round apertures from 1,0 to 125 mm

Perforated plates with square apertures 4 to 125 mm

Sieve Frame

Stainless Steel (1.4301)

Sieve Medium


Stainless steel perforated plates / stainless steel wire mesh (other materials available on request)

Norm

DIN ISO 3310 Part 1 and Part 2
Norm Compliance
Blau-Metall manufactures test sieves using only norm-compliant materials, precision aperture technology ensures compliance with all tolerances specified in ISO 3310-1 and -2. Every test sieve undergoes optical inspection using the instruments and methods specified in ISO 3310 to confirm compliance with the Standard which is documented according to EN 10204 and made available to the customer. Additionally, Blau-Metall keeps in its own records inspection documents for every sieve we ship so that full traceability is possible if requested by our customers.
Advantages of Blau-Metall Laboratory Test Sieves:
⚙ Stainless steel frame & perforated plate / wire mesh for high stability, corrosion resistance
⚙ Long lifetime and high reliability for all sieving tasks
⚙ Smooth frame surface to eliminate cross-contamination & simplify sieve cleaning
⚙ Very high tension of woven wire mesh even after extended use
⚙ Compatibility with comparable test sieves of other manufacturers
⚙ Compatibility with sieve shakers of all major manufacturers
⚙ Rigorous optical inspection & quality control guarantees norm compliance
⚙ Full traceability & documentation of inspections
Documentation of Norm Compliance of Test Sieves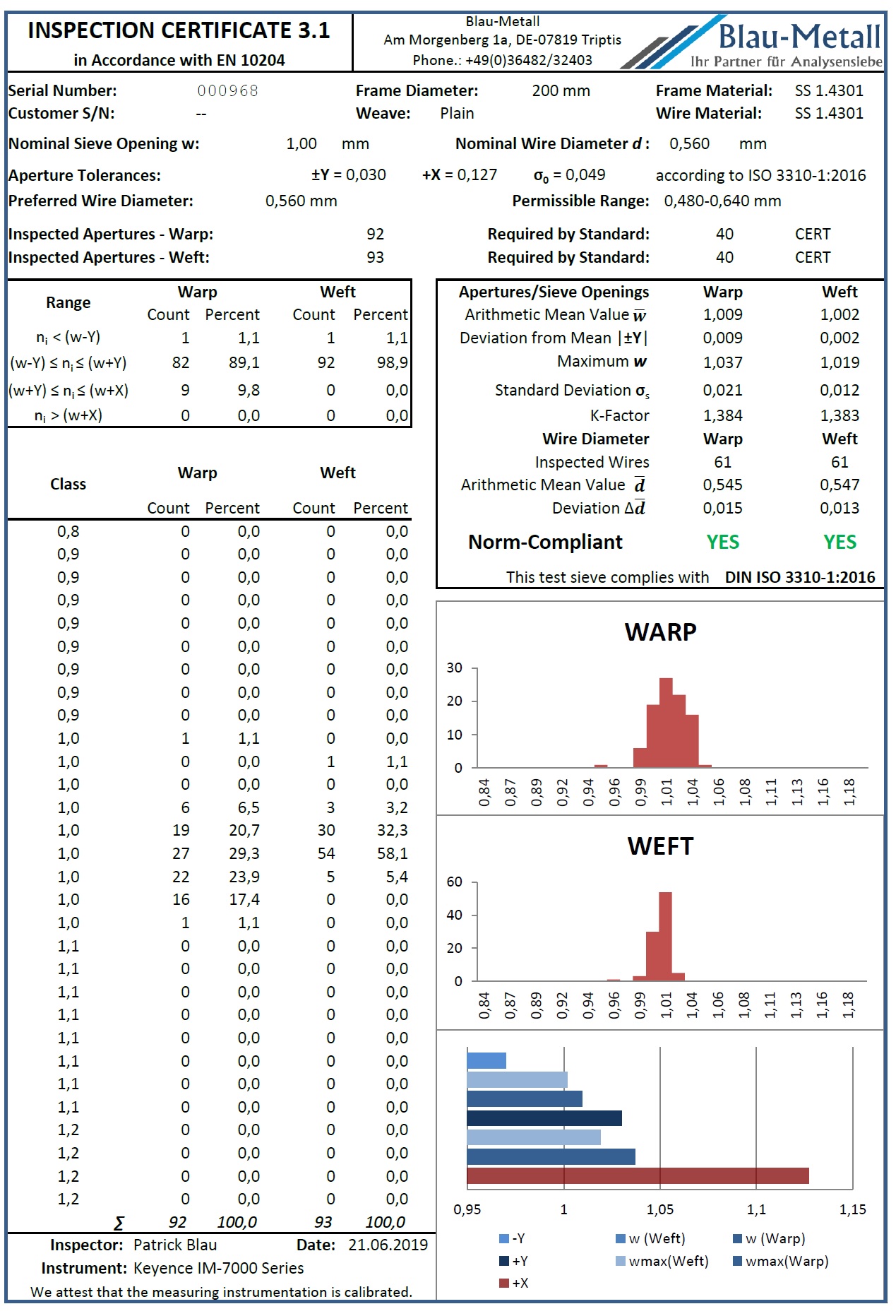 For many of their applications, laboratory test sieves are classified as measurement instruments and, depending on national and international regulations, have to be inspected by their manufacturer prior to shipment. Blau-Metall complies with these regulations as every single sieve we deliver has undergone optical inspection according to the standard with which the sieve complies. Operators of test sieves are also obligated to re-certify sieves at regular intervals if they are being used as measurement instruments under applicable statutory regulations. Blau-Metall offers cost-efficient re-certification services with fast turnarounds and complete documentation made available to the customer.
Inspection Documents According to EN 10204
Certificate of Compliance with the Standard / Certificate of Compliance with Tolerances For every Blau-Metall test sieve, we issue a free Certificate of Compliance 2.1 to attest that the sieve was manufactured according to the specified standard or tolerances and has passed optical inspections as required by the respective standard. Additionally, a Test Sieve Record Card is issued for every Blau-Metall sieve to keep track of inspections carried out for that specific sieve.
Certificate of Inspection 3.1 / Certificate of Calibration 3.1
Upon customer request, we can deliver test sieves with an Inspection Certificate that includes all results obtained during optical inspection of the sieve to demonstrate its norm-compliance and increase confidence in the results of sieve analyses carried out with our products. Optionally, the inspection process can be carried out as a calibration in which at least three times as many apertures are measured than are required for the conventional certification according to ISO 3310 / EN ISO 5223 or their ASTM equivalents.
Inspection results for each sieve we deliver are saved in our records for at least one year so that Inspection Certificates can be ordered by our customers after the fact, should they be required.
For additional information, refer to our pages on
Norm-Conformity & Certification
as well as our
Re-Certification Service