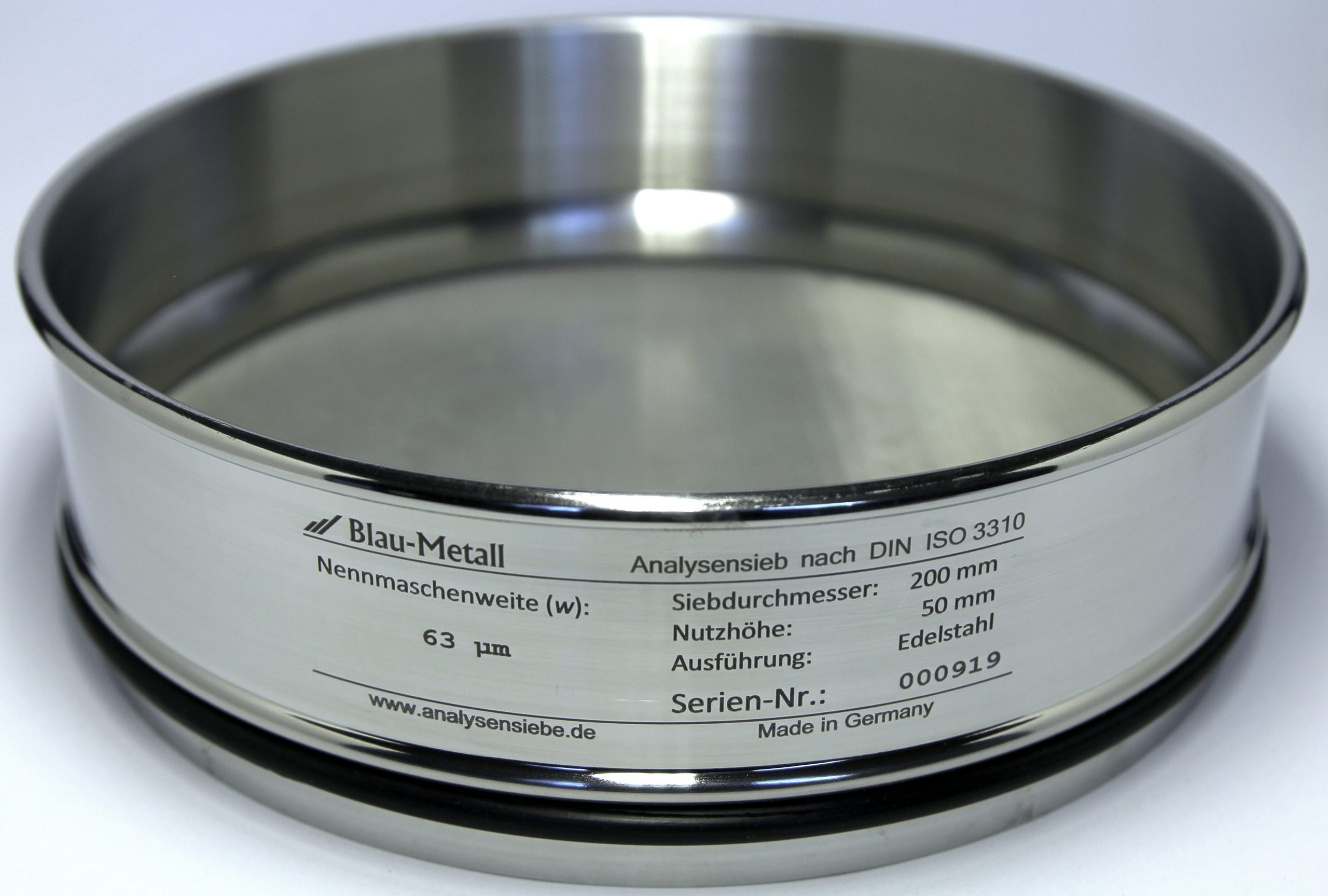 Screening analysis with norm-compliant test sieves is the obligatory method for determining the particle size distribution in solid moulding products. Instruments and processes for the dry-sieving analysis of these products is governed by DIN 53477 and other national-equivalents (DIN 53477: Testing of plastics - Determination of particle size distribution of moulding materials by dry sieving analysis). According to these technical regulations, moulding material production is to be monitored regularly using test sieves compliant with ISO 3310-1 combined with suitable sieve lid and collecting pan. In contrast to testing of other materials, DIN 53477 requires a circular sieving motion to be supplied by the sieve shaker.
Dry sieving of moulding materials aims to monitor the production of such materials with respect to constant material properties for subsequent batches / deliveries. Sieving is also used for initial quality classification of moulding materials and to guide further processing requirements for the product before use for a specific application.
Blau-Metall offers a suitable sieving set that complies with the requirements of DIN 53477. Our rigorous optical inspection protocol ensures our sieves meet all requirements of ISO 3310 and deliver a statistically sound screening result.
Test Sieves for Quality Monitoring of Moulding Products, DIN 53477
Stainless Steel, Diameter: 200 mm, Standard Delivery Time: 10 Days
| Article | Standard | Sieve Diameter | Sieve Depth (H1) |
| --- | --- | --- | --- |
| Woven Wire Cloth Sieve 2,00 mm | ISO 3310-1 | 200 mm | 32 / 50 mm |
| Woven Wire Cloth Sieve 1,00 mm | ISO 3310-1 | 200 mm | 32 / 50 mm |
| Woven Wire Cloth Sieve 500 µm | ISO 3310-1 | 200 mm | 32 / 50 mm |
| Woven Wire Cloth Sieve 250 µm | ISO 3310-1 | 200 mm | 32 / 50 mm |
| Woven Wire Cloth Sieve 125 µm | ISO 3310-1 | 200 mm | 32 / 50 mm |
| Woven Wire Cloth Sieve 63 µm | ISO 3310-1 | 200 mm | 32 / 50 mm |
| Collecting Pan | | 200 mm | 25 / 50 mm |
| Sieve Lid | | 200 mm | 27 mm |