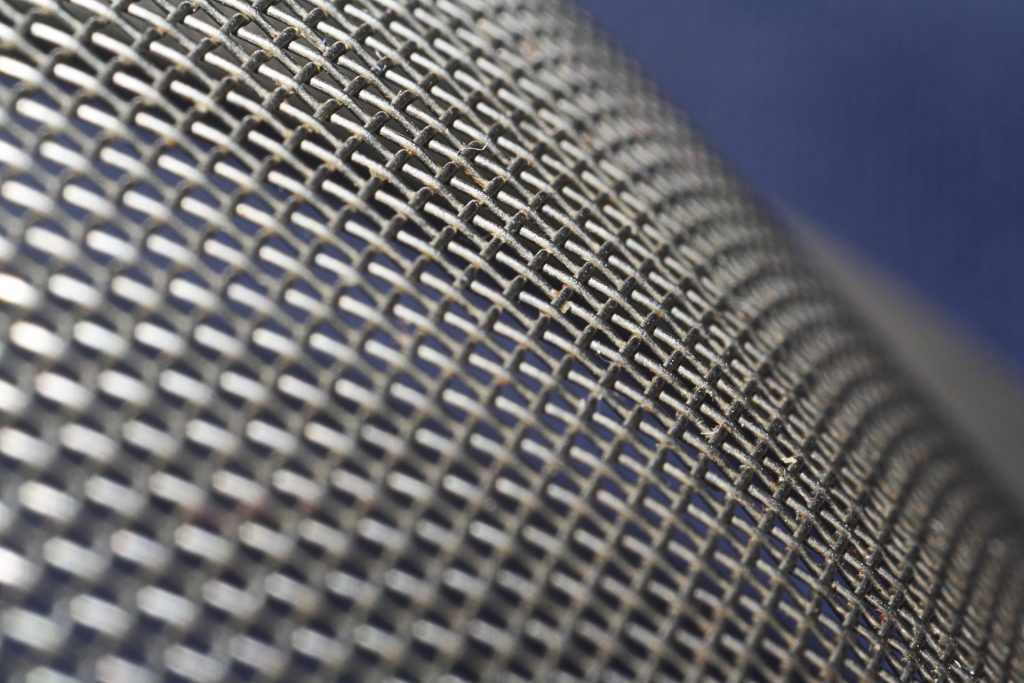 Besides material composition, particle size represents arguably the most important property governing the suitability of metal powders or powder mixtures for certain industrial and scientific applications: additive manufacturing like 3D printing require particularly fine particle sizes with an upper limit of 63 µm; powder metallurgical processes tolerate particle diameters up to 600 µm. With every process having its unique requirements, a variety of powder types exist on the commercial market and regulations were put in place to define the technical requirements of such products and dictate inspection processes to ensure the powder products comply with national and international standards.
Conventional dry sieving analysis has become the method of choice for the separation and analysis of metal powders with particles sizes from 20 µm. As such, screening analysis using test sieves has become the obligatory method for in-house and laboratory inspection of metal powder products.
The standardized testing procedure for metal powders with one or multiple components is defined in ISO 4497 for products with particle sizes of 45 µm and up (ISO 4497: Metallic powders; Determination of particle size by dry sieving). In accordance with this standard, analysis is to be completed with a column of non-magnetic, calibrated wire cloth test sieves with a diameter of 200 mm and a usable sieve depth between 25 and 50 mm.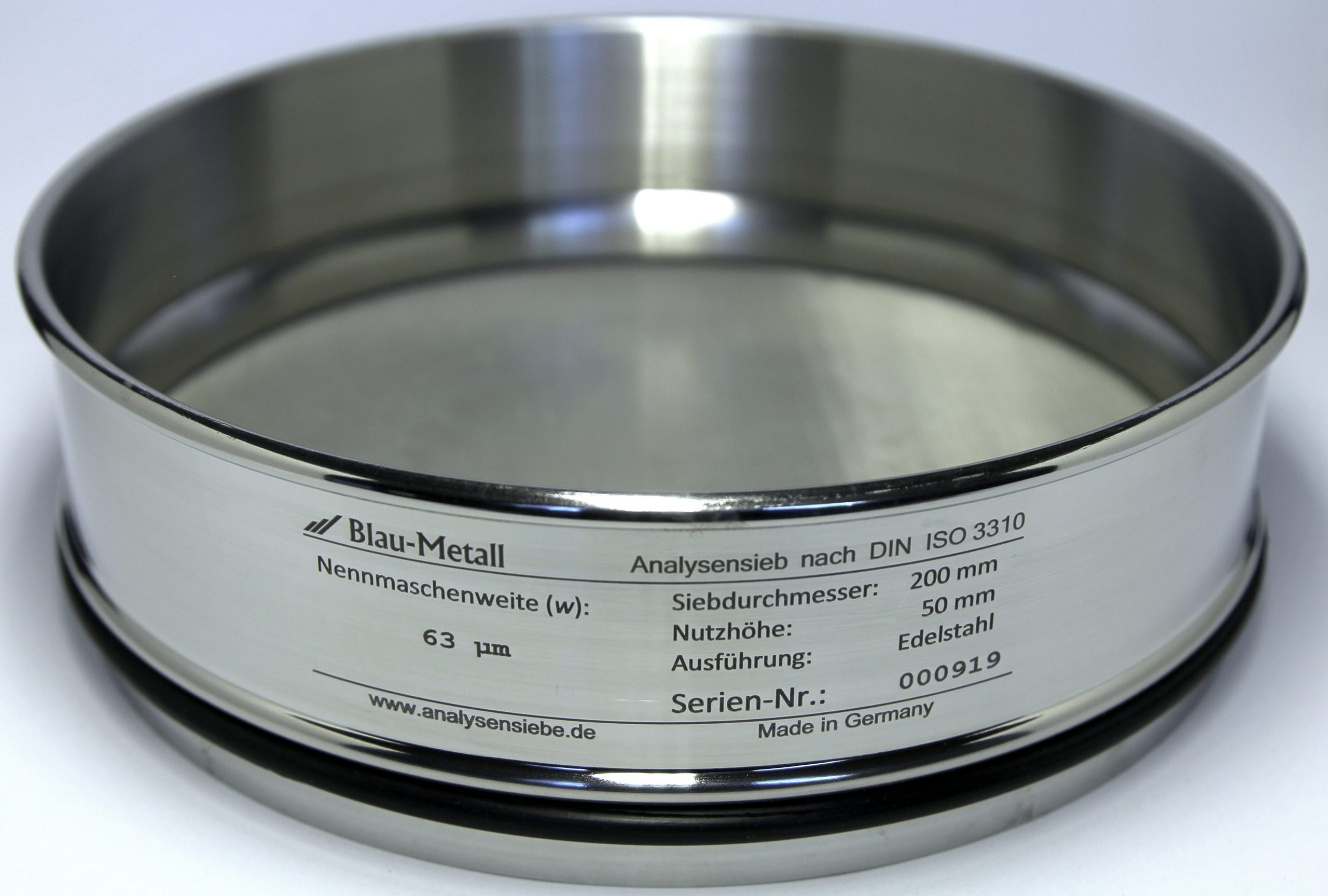 The mesh sizes should be selected from the R20/3 primary series of ISO 565, although it is permitted to partially or fully substitute the sieve column with mesh sizes from the R20 and R40/3 series when required based on technical considerations or the properties of the sample material. The sieves are to be chosen according to the expected particle size distribution of the sample in order to yield an appropriate resolution of the screening analysis. Typically, screening analysis is carried out with six to eight stacked sieves.
Blau-Metall offers laboratory test sieves compliant with ISO 3310-1 in a variety of mesh sizes, conforming to the requirements of ISO 4497 to permit high-resolution particle size distribution analysis of metal powders. Our rigorous optical inspection protocol ensures our sieves meet all requirements of ISO 3310 and deliver a statistically sound screening result. As required by ISO 4497, we can carry out the optical inspection process in the form of a Calibration Measurement according to the methods described in ISO 3310-1.
Test Sieves for Powder Analysis according to ISO 4497
Stainless Steel, Diameter: 200 mm, Standard Delivery Time: 10 Days
| Article | Standard | Sieve Diameter | Sieve Depth (H1) |
| --- | --- | --- | --- |
| Woven Wire Cloth Sieve 630 µm | DIN ISO 3310-1 | 200 mm | 32 / 50 mm |
| Woven Wire Cloth Sieve 500 µm | DIN ISO 3310-1 | 200 mm | 32 / 50 mm |
| Woven Wire Cloth Sieve 400 µm | DIN ISO 3310-1 | 200 mm | 32 / 50 mm |
| Woven Wire Cloth Sieve 315 µm | DIN ISO 3310-1 | 200 mm | 32 / 50 mm |
| Woven Wire Cloth Sieve 250 µm | DIN ISO 3310-1 | 200 mm | 32 / 50 mm |
| Woven Wire Cloth Sieve 180 µm | DIN ISO 3310-1 | 200 mm | 32 / 50 mm |
| Woven Wire Cloth Sieve 125 µm | DIN ISO 3310-1 | 200 mm | 32 / 50 mm |
| Woven Wire Cloth Sieve 100 µm | DIN ISO 3310-1 | 200 mm | 32 / 50 mm |
| Woven Wire Cloth Sieve 90 µm | DIN ISO 3310-1 | 200 mm | 32 / 50 mm |
| Woven Wire Cloth Sieve 63 µm | DIN ISO 3310-1 | 200 mm | 32 / 50 mm |
| Collecting Pan | | 200 mm | 25 / 50 mm |
| Sieve Lid | | 200 mm | 27 mm |
Sieves for Testing of Electromagnesia according to DIN 44872
Stainless Steel, Diameter: 200 mm, Standard Delivery Time: 10 Days
Screening analysis using test sieves conforming to the test sieve standards is the obligatory method defined in DIN 44872 for the determination of grain groups in magnesium oxide for use as electromagnesia isolator in electric heating elements. Blau-Metall also offers test sieves suitable for testing of electromagnesia. (DIN 44872: Testing of electromagnesia)
| Article | Standard | Sieve Diameter | Sieve Depth (H1) |
| --- | --- | --- | --- |
| Woven Wire Cloth Sieve 355 µm | ISO 3310-1 | 200 mm | 32 / 50 mm |
| Woven Wire Cloth Sieve 250 µm | ISO 3310-1 | 200 mm | 32 / 50 mm |
| Woven Wire Cloth Sieve 180 µm | ISO 3310-1 | 200 mm | 32 / 50 mm |
| Woven Wire Cloth Sieve 125 µm | ISO 3310-1 | 200 mm | 32 / 50 mm |
| Woven Wire Cloth Sieve 90 µm | ISO 3310-1 | 200 mm | 32 / 50 mm |
| Woven Wire Cloth Sieve 63 µm | ISO 3310-1 | 200 mm | 32 / 50 mm |
| Woven Wire Cloth Sieve 40 µm* | ISO 3310-1 | 200 mm | 32 / 50 mm |
*Delivery time varies