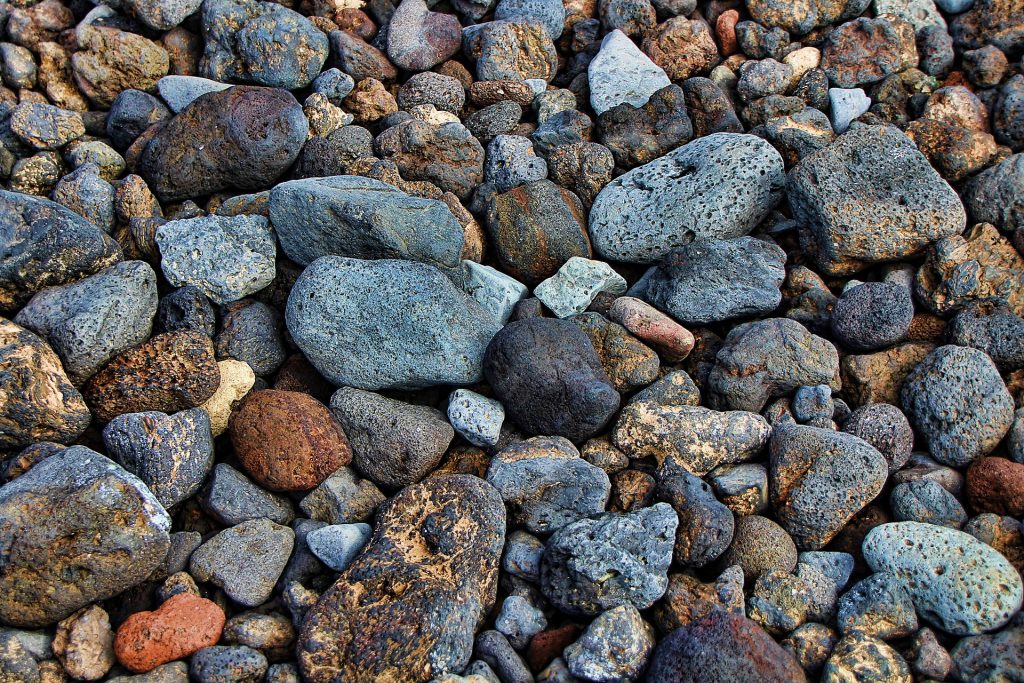 The
European Standard EN 933
builds the foundation for a variety of other standards, regulations and guidelines in the construction sector in that it sets mandatory testing procedures for the determination of physical properties of aggregates which are of great importance for building projects of all kinds. As part of the methods defined in that standard, sieve analysis is the mandatory method for the determination of particle size distribution in aggregates – a vitally important parameter for the classification of aggregates, both with regard to the quality of industrial products and for structural considerations of construction projects.
Part 1 of EN 933 (Test for Geometrical Properties of Aggregates. Determination of Particle Size Distribution) specifies the reference methods for washing and dry sieving for the determination of particle size distribution in aggregates. In Part 2, requirements are outlined for the laboratory test sieves required for the methods of Part 1 with references to applicable international norms regarding the tolerances for the sieve apertures. Subsequent parts of EN 933 deal with the methods and standards for the determination of other mechanical properties of aggregates such as Flakeness Index, Shape Index, Fraction of Fines.
The primary component of EN 933-2 is the regulation of nominal sieve apertures from
63 µm to 125 mm
to be used when analyzing aggregate particle size distribution. For the definition of allowable sieve opening sizes, the standard references the R20 series of ISO 565 while tolerances of ISO 3310-1 (for sieve openings from 63 µm to 3,15 mm) and ISO 3310-2 (for sieve openings from 4 to 125 mm) are being declared mandatory.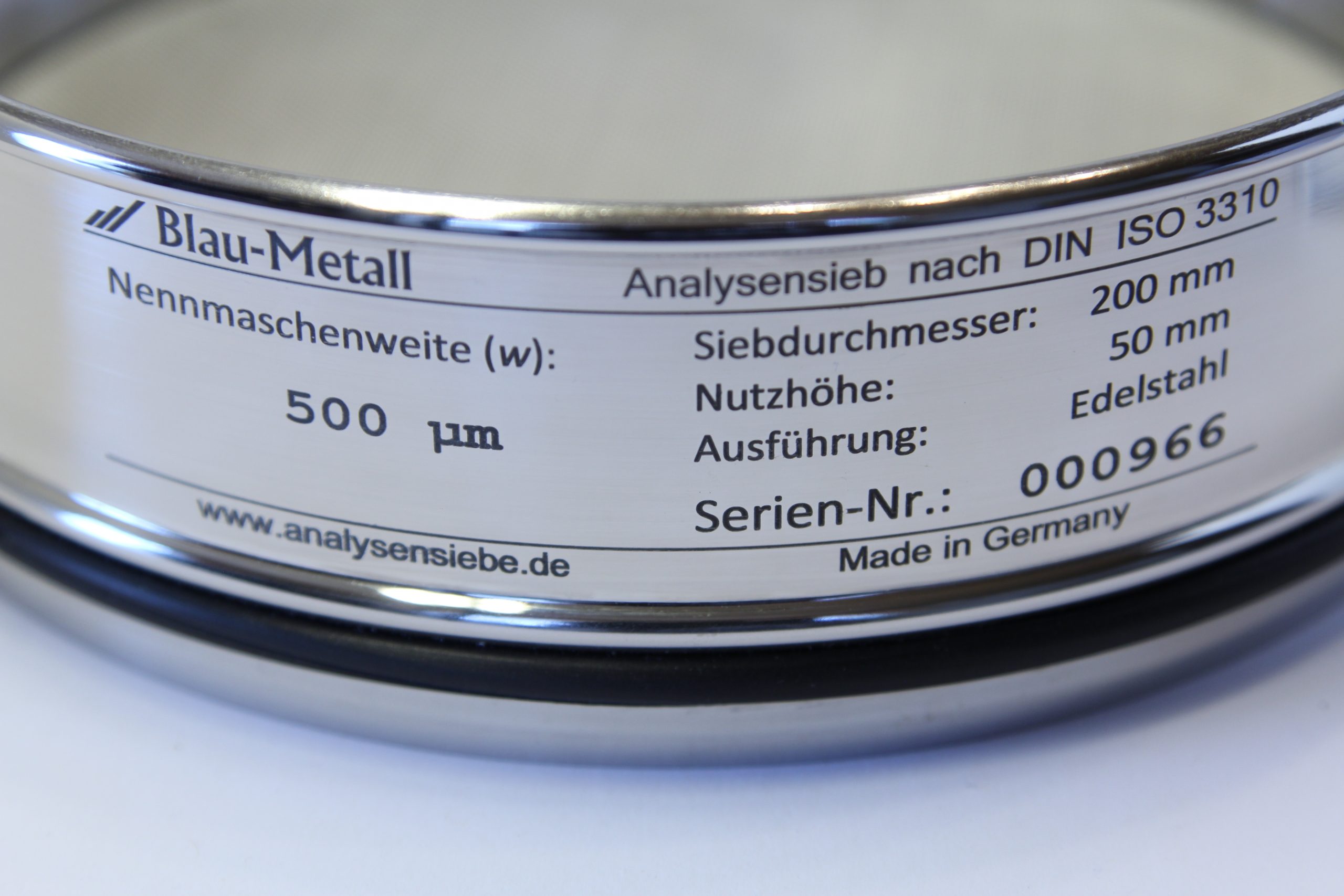 The formerly used version DIN EN 933-2:1996-1 identified
11 sieves of the ISO 565 R20 series as primary sieve column
for particle size distribution analysis from which sieves should be selected that range from d (smallest particle size of sample) to D (largest particle size of sample) plus any additional sieve sizes needed to increase the measurement resolution for the respective sample / application.
The set of 11 sieves identified in EN 933-2:1996-1 has since become the reference sieve column across a wide variety of analytical applications, primarily in the construction sector, and is the foundation for a number of other standards. For the classification of coarse aggregates for use in concrete production, defined in EN 12620 and DIN 1045, the primary set of sieves as specified in EN 933 can be expanded by sieves from two supplementary sieve lines to increase measurement resolution. These three characteristic sets of sieve aperture sizes are those typically used for construction-specific applications across the globe.
A new version of EN 933-2 first issued in 03/2019 expands the allowable sieve apertures to be complete R20 series of ISO 565, including a total of 66 aperture sizes of which 23 were identified as primary sieves (corresponding to the R20/3 series where a
n
=a
n-1
x 1,42).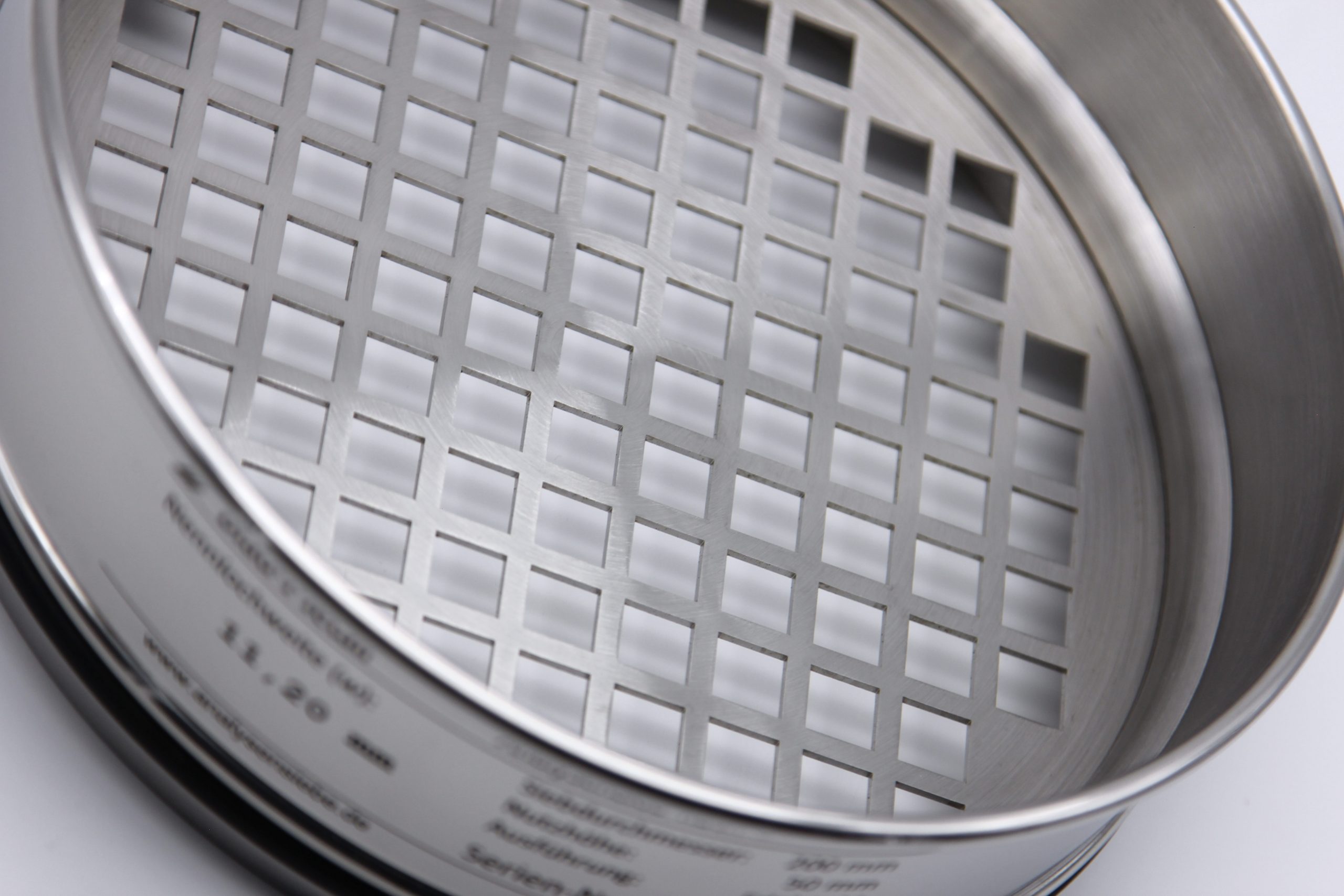 Blau-Metall manufactures laboratory test sieves in accordance with ISO 3310-1/2 which conform with the requirements of EN 933-2 for use in grading analysis of all types of aggregates. A high statistical certainty of particle size distribution analysis is ensured by rigorous optical testing of each and every Blau-Metall sieve prior to delivery.
Blau-Metall keeps all sieves included in EN 933-2:1996 as well as the primary sieves of EN 933-2:2019 (up to 63 mm) in stock to guarantee fast delivery times for these commonly used sieves.
Changes made between the 1996 and 2019 versions of EN 933-2 not only included an increase in the number of different aperture sizes used in the primary sieves but also shifted the aperture size of one particular primary sieve: while the 1996 version specified a perforated plate sieve with 4,0 mm square openings as primary sieve, the new 2019 version identifies 4,5 mm as primary sieve size.
Test sieves included in DIN EN 933-2 also find application in the following standards of the construction center:
EN ISO 17892-4: Geotechnical investigation and testing - Laboratory testing of soil - Part 4: Determination of particle size distribution (ISO 17892-4:2016); German version EN ISO 17892-4:2016
DIN 18123: Soil, investigation and testing - Determination of grain-size distribution (Retracted)
DIN 1045-2: Concrete, reinforced and prestressed concrete structures - Part 2: Concrete - Specification, properties, production and conformity - Application rules for DIN EN 206-1
EN 12620: Aggregates for concrete; German version EN 12620:2002+A1:2008
EN 13043: Aggregates for bituminous mixtures and surface treatments for roads, airfields and other trafficked areas; German version EN 13043:2002
EN 13242: Aggregates for unbound and hydraulically bound materials for use in civil engineering work and road construction; German version EN 13242:2002+A1:2007
EN 12697-2: Bituminous mixtures - Test methods - Part 2: Determination of particle size distribution; German version EN 12697-2:2015
EN 13450: Aggregates for railway ballast; German version EN 13450:2002
EN 13383-1: Armourstone - Part 1: Specification; German and English version prEN 13383-1:2015
EN 12904: Products used for treatment of water intended for human consumption - Silica sand and silica gravel; German version EN 12904:2005
EN 1177: Impact attenuating playground surfacing - Methods of test for determination of impact attenuation; German version EN 1177:2018
DIN 4924: Sands and gravels for well construction - Requirements and testing
DIN 18035-7: Sports grounds - Part 7: Synthetic turf areas
Primary Sieves of DIN EN 933-2:1996
Standard Delivery Time: ~10 Days
| Article | Standard | Sieve Diameter |
| --- | --- | --- |
| Test Sieve Square Apertures 63,0 mm | ISO 3310-2 | 200, 300, 400 mm |
| Test Sieve Square Apertures 31,5 mm | ISO 3310-2 | 200, 300, 400 mm |
| Test Sieve Square Apertures 16,0 mm | ISO 3310-2 | 200, 300, 400 mm |
| Test Sieve Square Apertures 8,0 mm | ISO 3310-2 | 200, 300, 400 mm |
| Test Sieve Square Apertures 4,0 mm | ISO 3310-2 | 200, 300, 400 mm |
| Test Sieve Woven Wire Cloth 2,0 mm | ISO 3310-1 | 200, 300, 400 mm |
| Test Sieve Woven Wire Cloth 1,0 mm | ISO 3310-1 | 200, 300, 400 mm |
| Test Sieve Woven Wire Cloth 500 µm | ISO 3310-1 | 200, 300, 400 mm |
| Test Sieve Woven Wire Cloth 250 µm | ISO 3310-1 | 200, 300, 400 mm |
| Test Sieve Woven Wire Cloth 125 µm | ISO 3310-1 | 200, 300, 400 mm |
| Test Sieve Woven Wire Cloth 63 µm | ISO 3310-1 | 200, 300, 400 mm |
| Collecting Pan | | 200, 300, 400 mm |
Primary Sieves of DIN EN 933-2:2019
Standard Delivery Time: ~10 Days
| Article | Standard | Sieve Diameter |
| --- | --- | --- |
| Test Sieve Square Apertures 63,0 mm | ISO 3310-2 | 200, 300, 400 mm |
| Test Sieve Square Apertures 45,0 mm | ISO 3310-2 | 200, 300, 400 mm |
| Test Sieve Square Apertures 31,5 mm | ISO 3310-2 | 200, 300, 400 mm |
| Test Sieve Square Apertures 22,4 mm | ISO 3310-2 | 200, 300, 400 mm |
| Test Sieve Square Apertures 16,0 mm | ISO 3310-2 | 200, 300, 400 mm |
| Test Sieve Square Apertures 11,2 mm | ISO 3310-2 | 200, 300, 400 mm |
| Test Sieve Square Apertures 8,0 mm | ISO 3310-2 | 200, 300, 400 mm |
| Test Sieve Square Apertures 5,6 mm | ISO 3310-2 | 200, 300, 400 mm |
| Test Sieve Square Apertures 4,5 mm | ISO 3310-2 | 200, 300, 400 mm |
| Test Sieve Woven Wire Cloth 2,8 mm | ISO 3310-1 | 200, 300, 400 mm |
| Test Sieve Woven Wire Cloth 2,0 mm | ISO 3310-1 | 200, 300, 400 mm |
| Test Sieve Woven Wire Cloth 1,4 mm | ISO 3310-1 | 200, 300, 400 mm |
| Test Sieve Woven Wire Cloth 1,0 mm | ISO 3310-1 | 200, 300, 400 mm |
| Test Sieve Woven Wire Cloth 710 µm | ISO 3310-1 | 200, 300, 400 mm |
| Test Sieve Woven Wire Cloth 500 µm | ISO 3310-1 | 200, 300, 400 mm |
| Test Sieve Woven Wire Cloth 355 µm | ISO 3310-1 | 200, 300, 400 mm |
| Test Sieve Woven Wire Cloth 250 µm | ISO 3310-1 | 200, 300, 400 mm |
| Test Sieve Woven Wire Cloth 180 µm | ISO 3310-1 | 200, 300, 400 mm |
| Test Sieve Woven Wire Cloth 125 µm | ISO 3310-1 | 200, 300, 400 mm |
| Test Sieve Woven Wire Cloth 90 µm | ISO 3310-1 | 200, 300, 400 mm |
| Test Sieve Woven Wire Cloth 63 µm | ISO 3310-1 | 200, 300, 400 mm |
| Collecting Pan | | 200, 300, 400 mm |