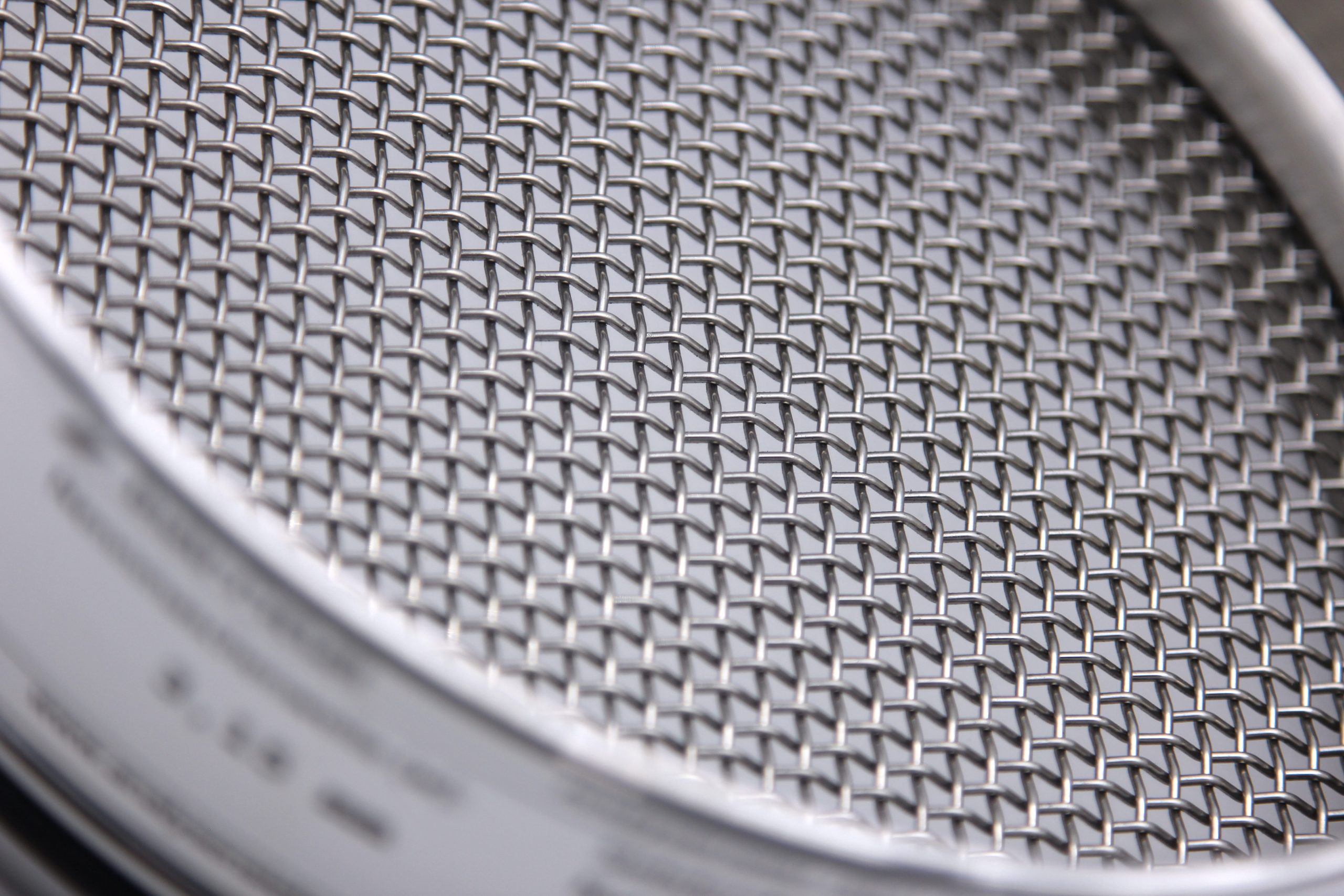 Test sieves with woven wire cloth according to ISO 3310-1 / ASTM E 11 are a core component of many applications in the field of particle size analysis and therefore are classified as obligatory analytical instrument in a number of national and international standards. Woven cloth sieves are employed for a variety of applications that range from particle size analysis of coarse aggregates in the construction industry to the determination of fines in metal powders for use in 3D printing.
Blau-Metall woven wire cloth sieves provide excellent stability through an all-stainless design, possess extraordinarily high tension within the wire mesh and provide precise and reliable sieving results over an extended period of time.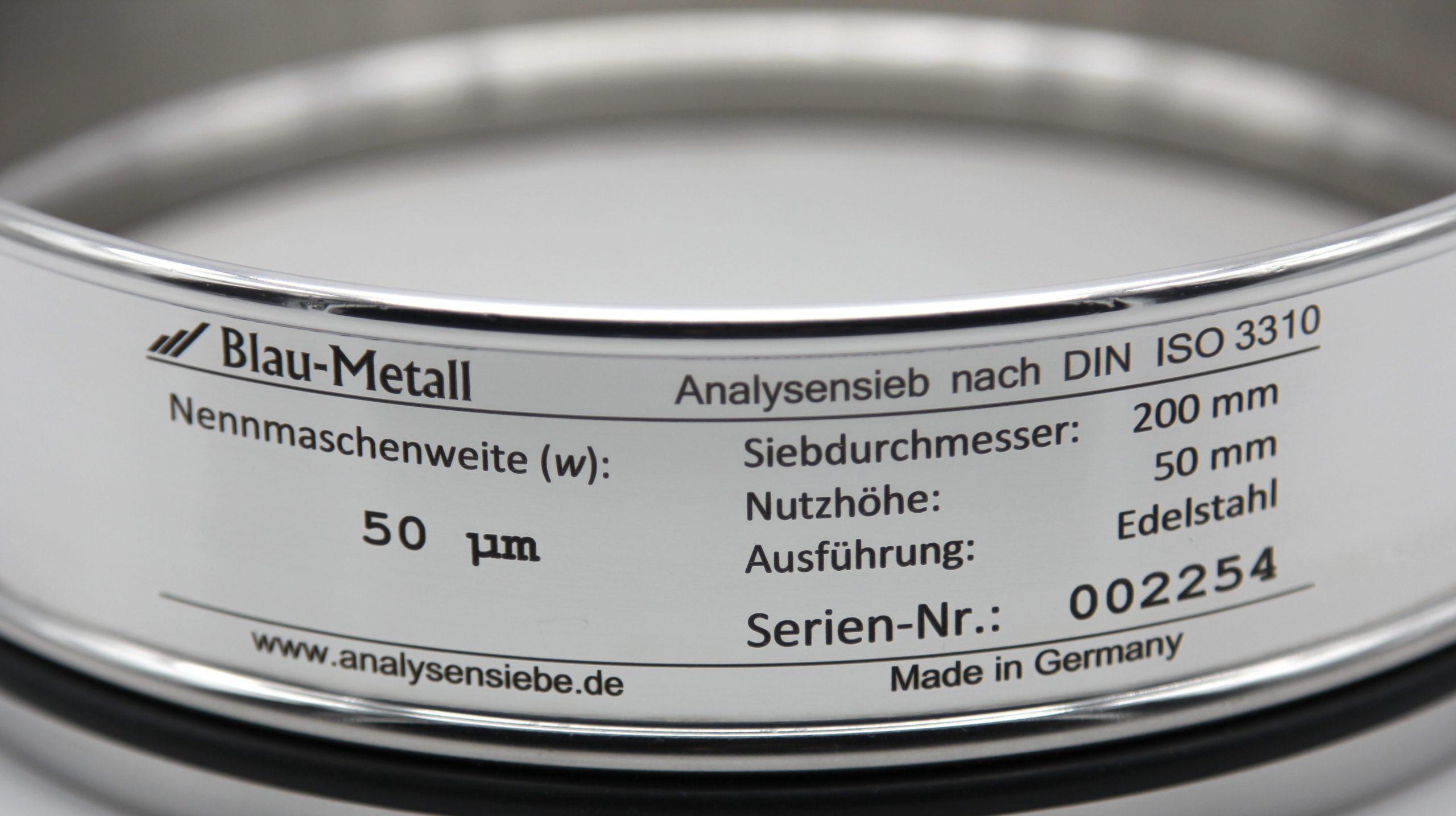 ⚙ Robust stainless steel construction of frame and mesh for long lifetime and constant sieving results (Frame, tensioning ring & mesh consist of 1.4301 / 1.4401 stainless steel)
⚙ Compliance with tolerances of ISO 3310 / ASTM E 11 verified through optical analysis & clearly documented
⚙ Smooth frame surface prevents cross-contamination & simplifies sieve cleaning
⚙ Ease of use: Blau-Metall Sieves are compatible with comparable sieves of other manufacturers
⚙ Individual laser engraving & serial numbers enable full traceability of Blau-Metall sieves
Blau-Metall test sieves according to ISO 3310 comply with all requirements for laboratory analysis, hand sieving, machine sieving, wet & dry sieving. For every Blau-Metall test sieve, a Certificate of Compliance (EN 10204 2.1) is provided and an Inspection Certificate 3.1 saved in our records. For additional statistical certainty of your sieve analysis, Blau-Metall offers calibration services for test sieves for which data will be documented in a Calibration Certificate 3.1.
Blau-Metall sieves manufactured according to the industrial standard ISO 9044 can be a cost efficient alternative for application outside of laboratory use.
Blau-Metall Woven Wire Cloth Sieves, ø 200 mm
Frame: Stainless Steel 1.4301
Sieve medium: Stainless Steel 1.4301 / 1.4401
Incl. Certificate of Compliance, Test Sieve Record Card
Delivery Time: 10 Days
Nominal Sieve Opening: 30 µm to 6,3 mm
Weave Type: Plain
Sieve Depth (H1): 32 or 50 mm
| Nominal Sieve Opening w | Wire Diameter d | Standard | €/Pcs ↕32mm | €/Pcs ↕50mm |
| --- | --- | --- | --- | --- |
| 50 µm** | 36 µm | ISO 3310-1 | 84,00 | 85,50 |
| 63 µm** | 45 µm | ISO 3310-1 | 80,00 | 82,00 |
| 75 µm** | 52 µm | ISO 3310-1 | 77,00 | 78,50 |
| 80 µm** | 56 µm | ISO 3310-1 | 77,00 | 78,50 |
| 90 µm** | 63 µm | ISO 3310-1 | 77,00 | 78,50 |
| 100 µm** | 65 µm | ISO 3310-1 | 77,00 | 78,50 |
| 106 µm** | 76 µm | ISO 3310-1 | 77,00 | 78,50 |
| 125 µm** | 90 µm | ISO 3310-1 | 77,00 | 78,50 |
| 150 µm** | 100 µm | ISO 3310-1 | 77,00 | 78,50 |
| 160 µm | 100 µm | ISO 3310-1 | 77,00 | 78,50 |
| 180 µm** | 130 µm | ISO 3310-1 | 77,00 | 78,50 |
| 200 µm** | 140 µm | ISO 3310-1 | 77,00 | 78,50 |
| 212 µm** | 140 µm | ISO 3310-1 | 77,00 | 78,50 |
| 212 µm** | 160 µm | ISO 9044*** | 60,00 | 61,50 |
| 250 µm** | 160 µm | ISO 3310-1 | 77,00 | 78,50 |
| 300 µm** | 200 µm | ISO 3310-1 | 77,00 | 78,50 |
| 315 µm** | 200 µm | ISO 3310-1 | 77,00 | 78,50 |
| 355 µm** | 225 µm | ISO 3310-1 | 77,00 | 78,50 |
| 400 µm** | 250 µm | ISO 3310-1 | 77,00 | 78,50 |
| 425 µm** | 280 µm | ISO 3310-1 | 77,00 | 78,50 |
| 500 µm** | 320 µm | ISO 3310-1 | 77,00 | 78,50 |
| 500 µm | 350 µm | ISO 9044*** | 58,00 | 59,50 |
| 560 µm | 300 µm | ISO 9044*** | 58,00 | 59,50 |
| 600 µm** | 400 µm | ISO 3310-1 | 77,00 | 78,50 |
| 630 µm** | 400 µm | ISO 3310-1 | 77,00 | 78,50 |
| 710 µm** | 450 µm | ISO 3310-1 | 77,00 | 78,50 |
| 800 µm | | ISO 3310-1 | 77,00 | 78,50 |
| 850 µm** | 400 | ISO 3310-1 | 77,00 | 78,50 |
| 900 µm | | ISO 3310-1 | On Request | On Request |
| 1,00 mm** | 0,560 mm | ISO 3310-1 | 77,00 | 78,50 |
| 1,00 mm | 0,50 mm | ISO 9044*** | 56,00 | 57,50 |
| 1,18 mm** | 0,630 mm | ISO 3310-1 | 77,00 | 78,50 |
| 1,40 mm** | 0,710 mm | ISO 3310-1 | 77,00 | 78,50 |
| 1,70 mm** | 0,800 mm | ISO 3310-1 | 77,00 | 78,50 |
| 2,00 mm** | 0,900 mm | ISO 3310-1 | 77,00 | 78,50 |
| 2,24 mm** | 0,900 mm | ISO 3310-1 | 77,00 | 78,50 |
| 2,36 mm** | 1,00 mm | ISO 3310-1 | 77,00 | 78,50 |
| 2,80 mm** | 1,12 mm | ISO 3310-1 | 87,00 | 88,50 |
| 6,30 mm** | 1,80 mm | ISO 3310-1 | 87,00 | 88,50 |
Blau-Metall Woven Wire Cloth Sieves, ø 400 mm
Frame: Stainless Steel 1.4301
Sieve medium: Stainless Steel 1.4301 / 1.4401
Incl. Certificate of Compliance, Test Sieve Record Card
Delivery Time: Variable (Contact us for details)
Nominal Sieve Opening: 63 µm to 125 mm
Weave Type: Plain
Sieve Depth (H1): 65 mm
Optional: Food Safety, Heat Resistance
| Nominal Sieve Opening w | Wire Diameter d | Standard | €/Pcs ↕65 mm |
| --- | --- | --- | --- |
| 63 µm** | 45 µm | DIN ISO 3310-1 | 215,00 |
| 75 µm** | 52 µm | DIN ISO 3310-1 | 198,00 |
| 80 µm** | 56 µm | DIN ISO 3310-1 | 198,00 |
| 100 µm** | 65 µm | DIN ISO 3310-1 | 188,00 |
| 106 µm** | 76 µm | DIN ISO 3310-1 | 188,00 |
| 125 µm** | 90 µm | DIN ISO 3310-1 | 188,00 |
| 150 µm** | 100 µm | DIN ISO 3310-1 | 188,00 |
| 200 µm** | 140 µm | DIN ISO 3310-1 | 188,00 |
| 212 µm** | 140 µm | DIN ISO 3310-1 | 188,00 |
| 250 µm** | 160 µm | DIN ISO 3310-1 | 188,00 |
| 300 µm** | 200 µm | DIN ISO 3310-1 | 188,00 |
| 355 µm** | 225 µm | DIN ISO 3310-1 | 188,00 |
| 400 µm** | 250 µm | DIN ISO 3310-1 | 188,00 |
| 425 µm** | 280 µm | DIN ISO 3310-1 | 188,00 |
| 500 µm** | 315 µm | DIN ISO 3310-1 | 188,00 |
| 600 µm** | 400 µm | DIN ISO 3310-1 | 188,00 |
| 850 µm** | 500 µm | DIN ISO 3310-1 | 188,00 |
| 1,00 mm** | 0,56 mm | DIN ISO 3310-1 | 185,00 |
| 1,40 mm** | 0,71 mm | DIN ISO 3310-1 | 188,00 |
| 1,70 mm** | 0,80 mm | DIN ISO 3310-1 | 188,00 |
| 2,00 mm** | 0,90 mm | DIN ISO 3310-1 | 188,00 |
| 2,80 mm** | 1,12 mm | DIN ISO 3310-1 | 223,00 |