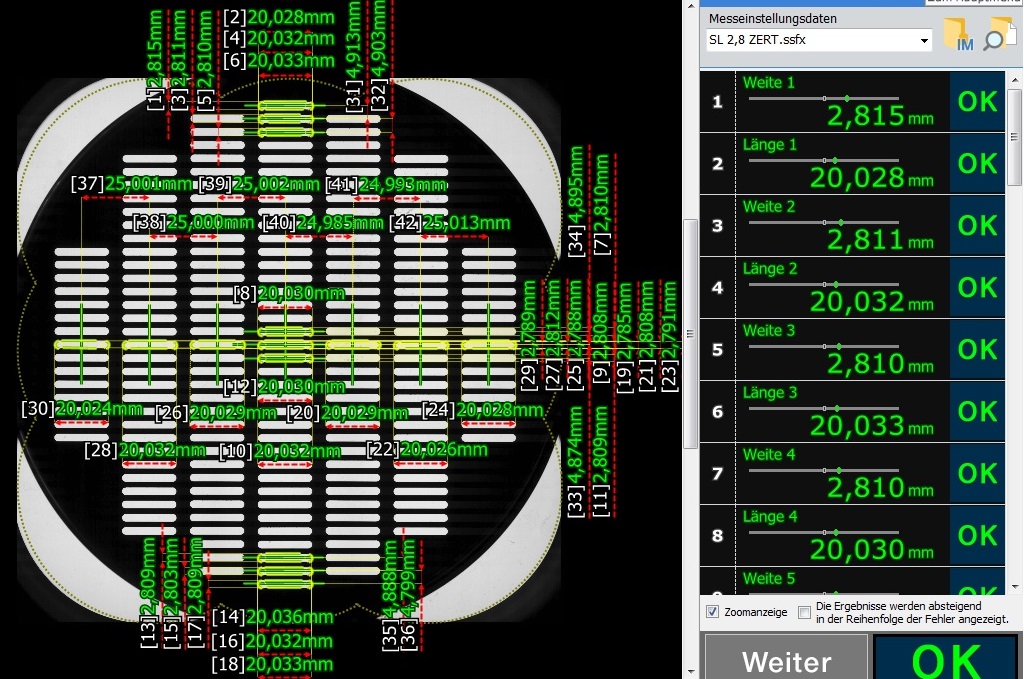 As measuring instruments, laboratory test sieves are governed by numerous national and international standards, quality assurance norms and certification / re-certification requirements. To satisfy the high quality demands that exist for test sieves in laboratory & industrial use, Blau-Metall utilizes precision manufacturing methods for the production of our sieves and modern Image Dimension Measurement Systems for certification of compliance with the required standards.
Blau-Metall offers test sieves with woven wire mesh in accordance with all common standards, including DIN ISO 3310-1,
ISO 3310-1
, BS ISO 3310-1 and
ASTM E11.
Additionally, as a cost-effective alternative for use in non-laboratory applications, sieves can also be delivered with mesh according to DIN ISO 9044,
ISO 9044
, BS ISO 9044. Test sieves with perforated plates are manufactured and certified in accordance with DIN ISO 3310-2,
ISO 3310-2,
BS ISO 3310-2,
ASTM E 323
and
DIN 24041
. Specialized sieves for the classification of grains / cereals are manufactured and certified according to DIN EN ISO 5223,
EN ISO 5223.
Our unique Made-to-Spec Service allows customers to set their own tolerances according to their specific requirements and we promise to deliver sieves exceeding these set tolerances with full documentation of inspection results through protocols according to EN 10204.
In addition to pre-shipment certification of all test sieves, Blau-Metall offers re-certification services for test sieves – including those from other manufacturers. For re-certification, inspection is carried out according to the methods specified within the respective standard and inspection results are fully documented and delivered to the customer – creating a complete quality assurance solution for your screening equipment.
Inspection Documents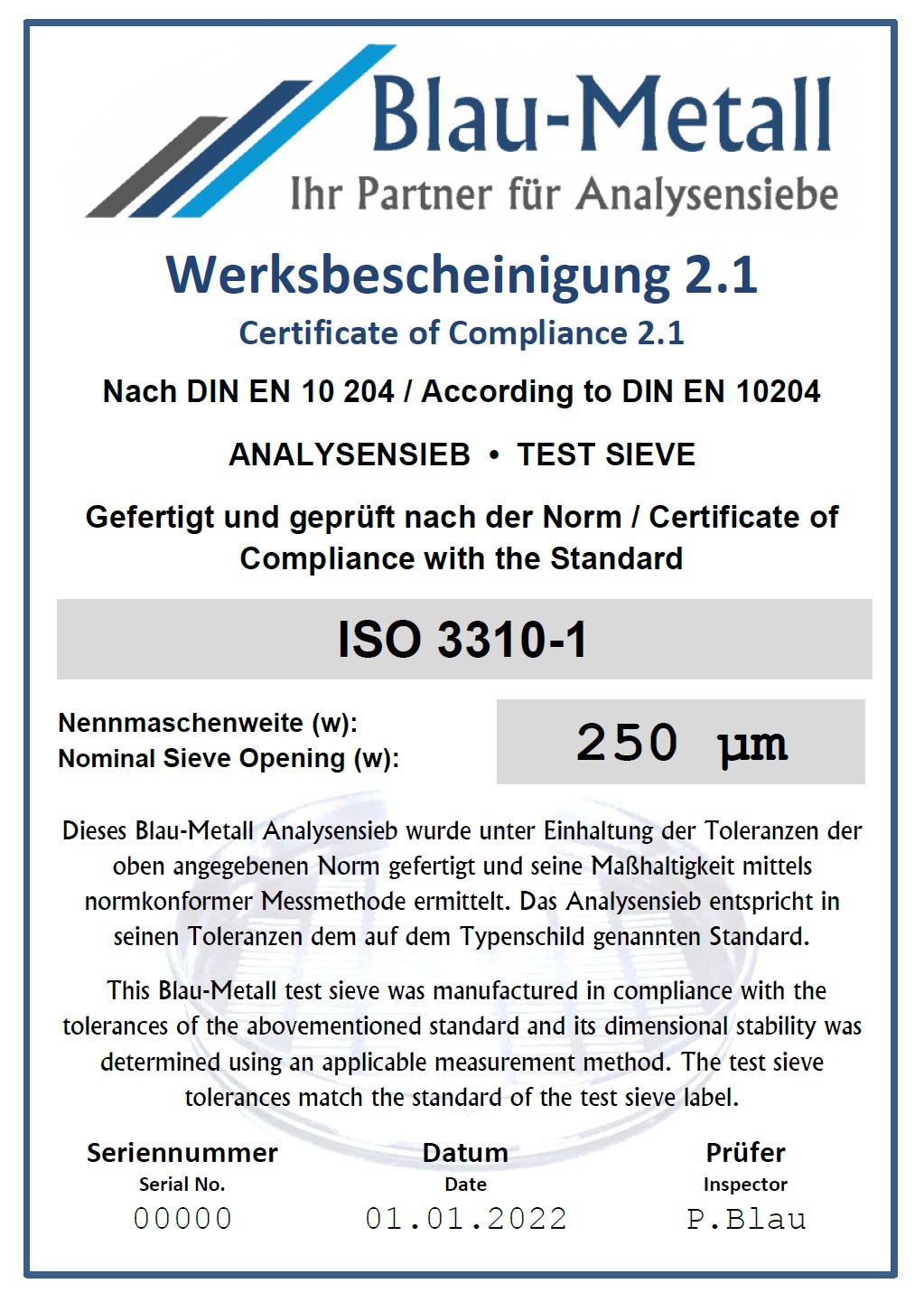 Prior to shipment, each and every Blau-Metall sieve undergoes an optical inspection in accordance with the respective standard using state of the art Image Dimension Measurement Systems with full documentation of inspection results. An individual laser engraving on each sieve, including a unique serial number, allows for clear traceability of each sieve and its inspections. Blau-Metall sieves are delivered with a Certificate of Compliance and Test Sieve Record Card; if required by the customer, Certificates of Inspection can be issued for our sieves, either in accordance with the certification requirements outlined in the respective standards or, for higher statistical certainty, as a Calibration Certificate.
Certificate of Compliance 2.1
Unless otherwise noted, we issue a free Certificate of Compliance 2.1 according to EN 10204 that attests that the sieve was manufactured according to the standard specified on the sieve label and that the sieve passed the optical inspection requirements of the respective norm. For sieves manufactured in accordance with tolerances, these will be shown on the certificate.
Test Sieve Record Card
For Blau-Metall test sieves according to ISO 3310, EN ISO 5223 and ASTM standards, we issue Test Sieve Record Cards as suggested in DIN ISO 3310 as a measure to keep track of a sieve's inspection history. The card validates that the sieve underwent optical inspection by the manufacturer and complies with the standard. Additional lines on the card can be used by the operator or other parties conducting re-certification services to log the results of periodic inspections of the sieve to provide an easy means for full documentation that the operator complied with the quality assurance requirements placed upon them by applicable laws, standards or industry guidelines.
Inspection Certificate 3.1
Inspection Certificates 3.1 in accordance with EN 10204 can be issued for all norm-compliant Blau-Metall sieves upon request by our customers. These certificates include the detailed inspection report that shows all properties measured as part of the optical inspection process to verify the norm-compliance of the sieve. The inspection can be carried out as Certification according to the measurement requirements outlined in the respective standard or as Calibration in which the number of measured apertures is tripled (with respect to the certification requirement) to add statistical certainty in the results obtained.
Inspection results for all norm-compliant Blau-Metall sieves are kept in our records for at least one year after deliver, allowing customers to order Inspection Certificates 3.1 after the fact, if required.
Exemplary Inspection Certificates 3.1 and additional information can be found by following the links below:
Additional Information - Certificates 3.1
Image Dimension Measurement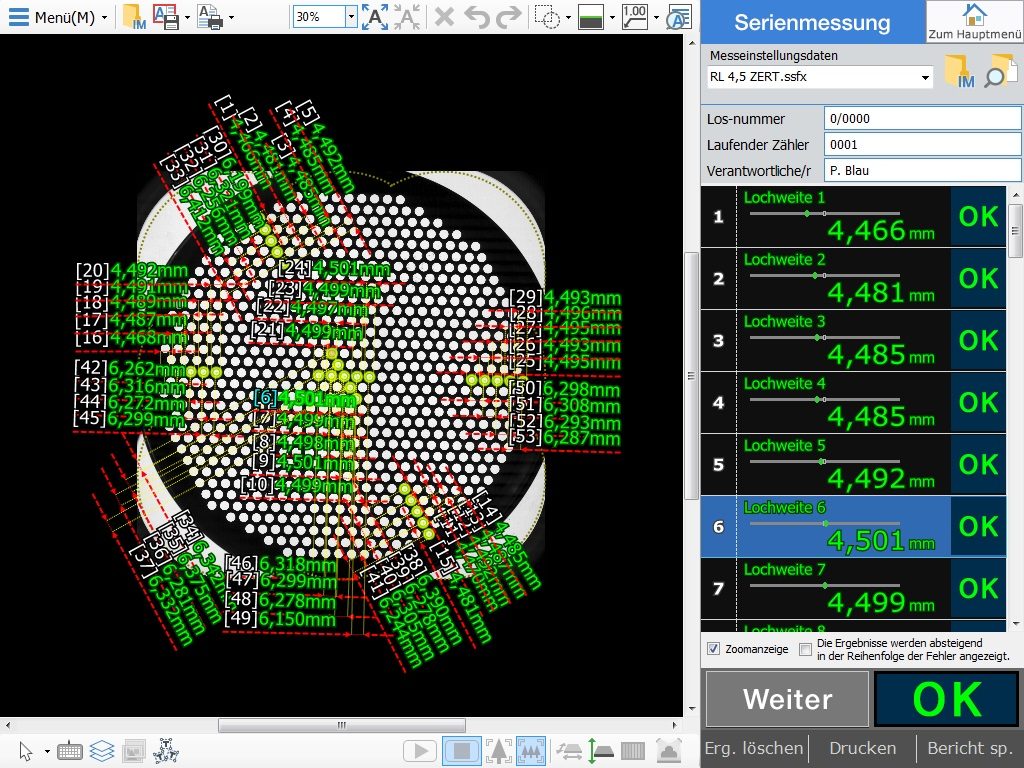 Our inspections for certification & re-certification of test sieves are carried out using modern digital image dimension measurement technology. Called for in internationally binding standards is an optical measurement using a "cross section projector with a minimum magnification of 50 x" (EN ISO 5223), "an appropriate measuring device with a reading accuracy of 1 µm or ¼ of the tolerance for the maximum permissible error of ±Y" (ISO 3310-1), "a precision of at least 2.5 μm or 10 % of the (Permissible Variation of Average Opening)" (ASTM E 11).
The Digital Image Dimension Measurement System employed by us (IM-7000 by Keyence) satisfies the above criteria fully as well as those of other national & international standards. Employing digital imaging processing technology, Keyence's IM Series allows for processing of a large number of sieve apertures – exceeding certification & calibration requirements – and delivers an absolute measurement accuracy of ±5 µm in standard operating mode and 0.5 µm in its precision operating mode. Another advantage found in digital image processing systems is the repeatability of results given the user-independent nature of data acquisition.